Although, most people, regardless of their occupation, have a mood board or something close to it. Whether it is a manual board attached to a wall or a digitally dedicated folder on your device(s) where they draw inspiration and also stay motivated, but, dear creative, do you have a mood board? How did you make yours? Before you answer, let's take a look at the definition of a mood board.
What Is A Mood Board?
A mood board is a collection of graphic elements like text, pictures, shapes, images, and the likes that help to conjure a specific look or an idea. It is an important creative item that helps creators to convey the "desired feel of a concept" by specifying design elements and color schemes. They are a visual point of reference and launchpads for fresh concepts in any creative endeavor for most designers, illustrators, photographers, filmmakers, and other creative professionals.
Why Do You Need A Mood Board?
Dear creative, whatever the case may be, a mood board will give you the clarity you require before purchasing materials or construction components. Ultimately, a mood board will help you stay guided and motivated throughout the project.
They come in handy when starting a project from scratch. Besides being a source of inspiration, a mood board will give you a sense of direction as the project progresses. Whether you already have a solid idea, you still need a mood board to help you articulate and project your ideas efficiently and effectively.
Most importantly, you need a mood board to help you simplify the presentation of your creative ideas and flow to your teammates, clients, or any willing audience. An adequately prepared mood board helps simplify the decision-making process by making assimilation easy for all parties involved and influencing the feedback positively for the project's progress.
Types of Mood Boards
There are two major types of mood boards, namely:
Physical mood board
Digital mood board
Although their mode of reach and utilization are different, these two boards serve the same purposes. They are a replica of the cliche concept of analogue and digital models. Let us explore both concepts below.
Physical mood board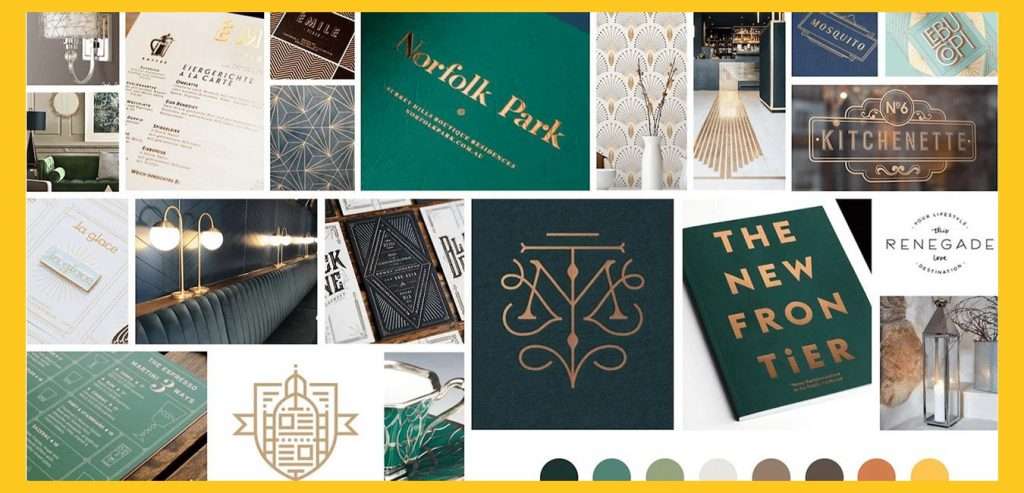 Physical mood boards have been in around as far back as time goes. Physical mood boards are mood boards that can be felt and held. The most common forms of physical mood boards are white/ magic boards or blackboards. Physical mood boards can also be improvised with flat surfaces like walls.
Apart from the luxury of writing and erasing on your mood board which is one of the common ways to create one, a physical mood board can also be created by incorporating visual materials like newspaper clippings, images from magazines, books, printed photos, patterns, fabric samples, and anything else that can be physically pinned or glued to the board. The good thing about a physical mood board is that it lets you get spontaneous with the physical items you can add to the board. More so, it is suitable for any project type.
Digital mood board
A digital mood board simply means going digital without complicating your approach via a significantly simpler means. It is using technologically inspired means to search for and curate content ideas for a project. A digital mood board to be as simple as conducting an online search for essential images by tapping into the myriad of resources available on Pinterest.
You can search from the ground up to build your mood board, draw inspiration for your pin-board, and use images from other users' pre-made boards. There are also a lot of free internet tools you can utilize to create a seamless mood board. Some of these tools include Canva, Adobe Illustrator, and other free online resources. This is for you if you're on the tech side of the coin or just need a quick template to work with.
How To Make A Mood Board From Scratch
Thankfully, you don't have to rob a bank to create a personalized mood board. All you need is non-technical "know-how, " broken down into five simple steps for you to follow.
Define Your Concept Idea(s)
Dear creative, before you unleash your creative prowess with that new idea, you must first define the idea's concept. Defining the concept of the idea will help you make the right choices and decisions in creating your mood board which is the foundational block of your creative process.
You can start out defining your concept ideas by carrying out some relevant keyword research depending on the mode of the project. For instance, an interior design project will require you to focus on the design style, which could be modernist, Minimalist, or tropical. You will also need to pay attention to the materials if you would use concrete, ash wood, or rattan. Most importantly, the colors will give the perfect ambiance.
Adequately Research Your Defined Concept Idea(s)
Defining your concept idea and tying them to specific keywords will proffer you with the much-needed assistance for your research. For efficiency, you can carry out your research with digital software such as Google, Getty, Unsplash, Pinterest, and Instagram. Alternatively, suppose you have time on your hands. In that case, you can simply peruse through the project industry-related books or magazines, movies, vintage images, artwork, fabric and color swatches, architecture, items, and clothes.
Proactively Take Down Notes
Dear creative, in addition to having defined concept ideas and relevant keywords and carrying out research, you must proactively take notes. While you let your eyes wander, endeavor to take note of components that strike a chord. By taking down notes either by jotting down, bookmarking, or screenshot images and ideas and saving links to a safe space, you are building up artillery that will form the layers of your mood board.
Organize The Proceeds Of Your Research
Dear creative, this is where the show goes down. After defining your creative Idea for the project, researching with relevant keywords, and taking down important notes and images during your research process, you must consciously sort out your notes. This phase of organizing the proceeds of your research will usher you into the final production stage.
You can simply choose photos and other collected samples that are compatible and align beautifully with your project idea. More so, cut down your bias and discard anything that clashes with the overall interest of the project. You can organize these variables on a physical board or in a folder if you intend to create a digital mood board.
Save Your Mood Board
Dear creative, having carefully followed through steps one to four, the final step in creating your mood board is to save it. Now, your idea is solid after researching and sorting out the sample collectibles in a way that portrays the idea for your project. It s crucial for you to save it. Otherwise, the entire purpose of the mood board, which is to serve as a reference point and inspirational guide for the project's progress, will be defeated. In the case of a physical mood board, you can quickly take a picture for safekeeping and ease of mobility.
Conclusion
Dear creative, duly follow these five easy steps to create your mood board that will guide the creative progression of your creative project.