A city filled with cosmetically enhanced individuals in the most colourful of attires reminiscent of a sort of Afro-futurism we have yet to attain, and a magical atmosphere that feeds the young and hungry with hope for ultimate success in their respective lanes of hustle. Chigozie Obi is one of the young and hopeful.

Working as a visual artist thriving in this city, the 23-year-old met me for a short lunch break in an outdoor eatery filled with lush plant life and men in expensive caftans sitting across from girls with glistening yellow skin. The object of my interview is equally as beautiful, but there is something mellow about her style.

She resembles one of the daring artsy girls you would find in an international institution for creatives, with baggy jeans, a loose headscarf and a natural vibe. I want to know more about her. In my quest to schedule a sit-down with Chigozie Obi, I came upon a realization.

Apart from the thick hustle and bustle stretching from a congregated mainland to the flamboyance of the island life, there is something about Lagos that makes you feel alive. It is often referred to as the African version of New York, filled with musty traffic.
Chigozie Obi's Artistic Origin
How did your journey as an artist begin? Have you always wanted to do this?
Although I studied Fine Arts in Secondary school, I didn't consider it as much of a prospective career. It was just something I enjoyed doing, and I wasn't so great at the other classes, except Arts. The year before I got into university, I had started drawing and practicing on my own but nothing too serious as well.

It was in the process of doing that an aunt of mine saw my talent and encouraged me to study Creative Arts in school. She helped talk to my dad who, eventually, agreed that I learned how to paint properly, and that was when it occurred to me that I could also do this full time as a career.
How long have you been doing this?
Professionally, about 4 years now. I started right after school in 2017.
A cliché question, but I have to ask. What drives or influences you?
I am influenced by many things. The things that affect me personally, the people around me, my friends and family, the society. All these are big inspirations for my works. I also have a whole lot of artists that influence me, but at the moment – Alexandria Couch, Violet Hwami, Njdeka Akunyili amongst others.
What's your favourite medium to work with? Why is it your favourite?
At the moment it is oil. I really love working with oil. I love the versatility of it and how it dries. The fact that it's slow in drying helps me with mixing my colours and I just love the way it comes out. I also work with watercolour, acrylic, charcoal, pastel and other mediums, as well as digital painting, but oil is my favourite.

What Does Your Artwork Represent? What is the hidden meaning behind the symbols and beautiful strokes?
My artwork is a reflection of things that affect me personally, things that affect society. I convey messages on insecurity, depression, beauty standards, stereotypes, gender identity problems, amongst others, and how these all affect the black community. I explore these themes and share them through my work so people can learn.
I'm also very intentional about painting black people, and I want to capture them in their essence. Most of my work is centred around things that affect women because, as a woman myself, they are also things I can relate to.
Although all beautiful, we all have a favourite. Which of your artworks speaks to you the most?
I don't think I have one particular one. A lot of them speak to me personally – The Virgin Series, Shade of Black Series, Coming up for Air. All of them really, but let me highlight these three.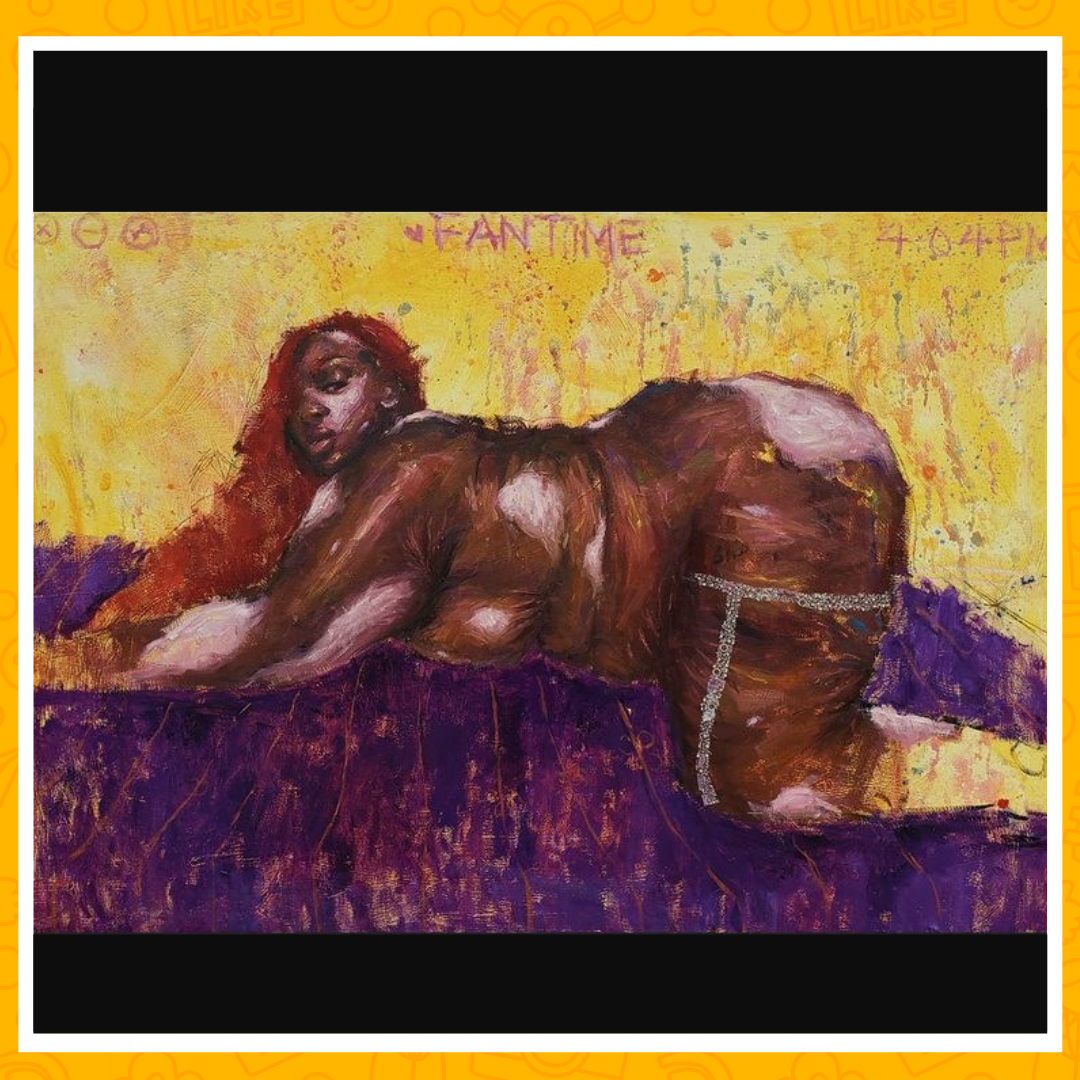 Expressive, Precise, Gestural
What Do You want your Art to mean to you and everybody else who sees it?
Self-expression basically. Being able to express yourself, your feelings and your passion. Also, a means of sustaining yourself financially is really a great thing because you can do what you love and make money from it. Without art, I don't know who I'll be. It's how I express myself.
If there's one thing you could say to young people just starting on this path, what would it be?
I'm very big on honesty and a stellar work ethic. I always want to put out work and not try to cheat anybody in the process. At the same time, I understand that people do what they have to do to survive. I know people need money and all of that but don't sell out your integrity in the process.
In life, take risks, experiment, collaborate, make friends and don't put pressure on yourself. Be confident in your journey and what you're doing.
Follow and check out Chigozie Obi's works on Instagram and Twitter.
---
Interviewer: Adeola Adegbite
Editor: Bassey Eyo and Emmanuel Ibok
Graphic Producer: Harry Ugorji and Mu'azu Jiyah
Website Producer: Akuns Kingsley