Whenever I see an amazing work of art, or a crazy talent, or an act of immense proportions done by someone, the first thing that usually comes to my mind is, "How did you even know that you can do this?" But then, many people were born different. We are all equal, but quite a few are really special. Uche Nwaje is one of the special ones.
Uche, with his deep understanding and love of his culture, has chosen to tow the path of the preaching artist. That artist, who with his talents, emphasises the beauty within Nigerian people. That artist, who with his philosophy, makes it easier for us laypeople to understand the similarities and differences between us all.
Many other young artists want to make "global" art or art that has no ties to anywhere to appeal to global audiences. What then influenced this young man's decision to tow the "town crier" path?
Uche Nwaje
Uche Nwajiaku, or Uche Nwaje as he's known in many circles, is an indigene of Umuoji, Idemili North, Anambra State, Nigeria. He's a graduate of Visual Arts from the University of Lagos and is a practising visual artist whose medium is painting. He also is a history researcher and writer.
Like many artists, Uche Nwaje started young (which is why I always wonder how they knew that they could do such amazing stuff). As he grew older, art became more than just a fun pastime for him. He began to see it as a tool for communication and change and as the medium for documenting a people's culture and philosophy. "From a world view or a holistic perspective, art remains part and parcel of our existence," Uche says.
"God himself took art into cognisance when he said what he created was beautiful, and colour played a central role in appropriation or the formation of the earth. I, as an artist, just want to be part of this and translate these experiences in a pictorial form with dynamics of continuity. And since I decided on this, I have read more, asked more questions, interrogated data, and researched widely. It has helped me develop as a person."

Uche Nwaje
Uche is a breath of fresh air in Nigeria today, where many youths are disconnected from their history. Art took his soul and grounded him, and now he is using art to reach out to others to ground their souls. This is why he spends a lot of time researching and writing out ideas before actually going ahead to paint.
"Well, my art primarily features narratives that depict socio-cultural sceneries and elements, especially those of the Igbo people. Using an admixture of Nsibidi symbols and surrealism, I engage various forms and themes with the intention of involving the viewers of my works as participants in my creative process. Tradition remains the bedrock of our social existence and I try to use my art to show it," Uche says of the general ideas behind his works.
A quick fact for you: You may or may not have heard of Nsibidi. Nsibidi is one of the lost writing styles of very ancient times that belonged to the Igbo. If you ever saw the Black Panther movie (rest in peace, King Chadwick Boseman), you may have seen these symbols somewhere in the film. This article by Indiewire from 2018 tells of how Nsibidi became the fictional nation's writing style.
Uche gets in the zone to paint by having conversations, listening to Igbo highlife music, reading history books, and old magazines, articles, and so on. This then leads him to write briefs and make rough sketches that guide his painting. Uche gives off serious professor vibes. He looks like a young man who just wants to educate people. And in the times that we live in, such selfless souls need to be paid more attention because we can "chase the bag" and forget ourselves in the process.
See Also – Silas Onoja: 'My environment is my greatest source of inspiration.'
I won't be surprised to see him as a lecturer in a top institution someday, using his art to teach history and keep it alive. Uche also says of his art's mission: "People believe art is mere aesthetics. Maybe it is, but I don't do art for aesthetics. I use my art as a tool to educate my audience, to document history, share personal experiences, strike a conversation, give insight, tell stories, project my cultural background and environment as well as to enlighten myself.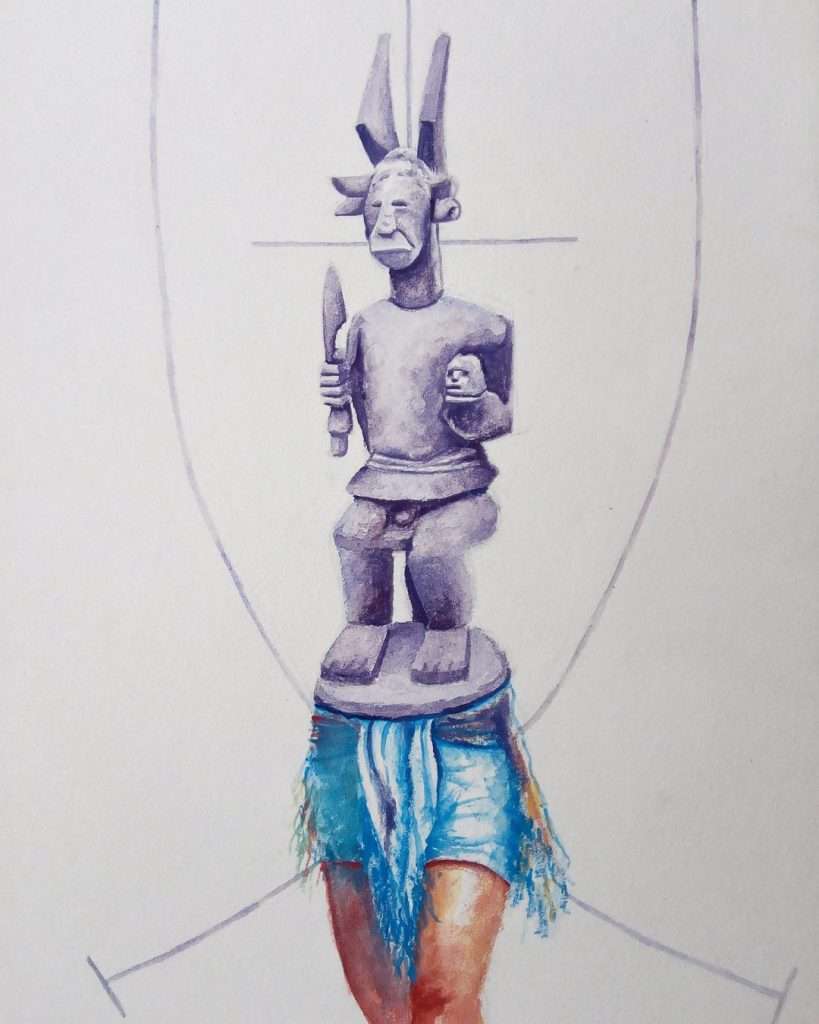 If you love works that depict cultural nuances, Uche Nwaje is definitely a person whose career you should follow. You'll not only be getting free education, but you'll get satisfaction from seeing aesthetically pleasing works of art. Find him on Instagram @_nwaje and on Facebook – Nwaje Uche.