Creative people are known for daring the odds and taking risks that may or may not pay off. They are courageous pacesetters who embark on stunning projects that appear ordinarily impossible. Today, we explore such ambitious creatives who have dared the toughest challenges to become Guinness World Records holders.
You might be more familiar with outstanding Nigerians who hold Guinness World Records in the sports/athletics categories. However, some creatives in other sectors have achieved their 'crazy' ambitions through their creative skills and earned a historical mention in the Guinness World Records. This article outlines such creative people who have achieved the nearly impossible and made Nigeria proud time and again.
1. Bayo Omoboriowo
Bayo Omoboriowo holds the existing record for creating The Largest Photo Book in 2021. The photo book, done in collaboration with The JT Agency and with the federal government's support, is 60.84 square metres (654 square feet and 87 square inches) and was a recreation of a photo collection titled Discover Nigeria.
2. Eche Chinonso
Having performed 111 knee touches in a minute, fifteen-year-old Eche Chinonso holds the current record of Most Consecutive Football (Soccer) Touches in One Minute While Balancing a Football on The Head. Phew! That was a mouthful.
Amazing Kid Eche, as he's popularly known, was only eleven years old when he set this record in November 2019, and Guinness World Records officially acknowledged him when they included him in the record's 2021 edition. Have a young soccer prodigy too? Don't be quick to ask them to only focus on their education – they might just break Eche's record!
3. DJ Soul Yin
DJ Soul Yin, whose real name is Oyinka Asu-Johnson, broke the record for the Longest DJ Set in 2021. DJ Yin, who is also a musician, played nonstop music for 243 hours and 30 minutes. It appears that Nigerian DJs have agreed to keep this category in the family, mainly because the reigning DJ she unseated is DJ Obi, who broke the record in 2016 by playing nonstop for 10 days (230 hours).
4. Gbenga Ezekiel
Creativity is like a box of superpowers; each person has unique superpowers. For Gbenga Ezekiel, that superpower is rope skipping, and the sixteen-year-old secondary school student broke the record of Most Skips in a Minute in October 2022. Gbenga, the first African skipper to enter this category, did 265 skips in a minute, beating the existing record of Bangladesh's Rasel Islam of 262 skips in a minute.
5. Kafayat 'Kaffy' Oluwatoyin Shafau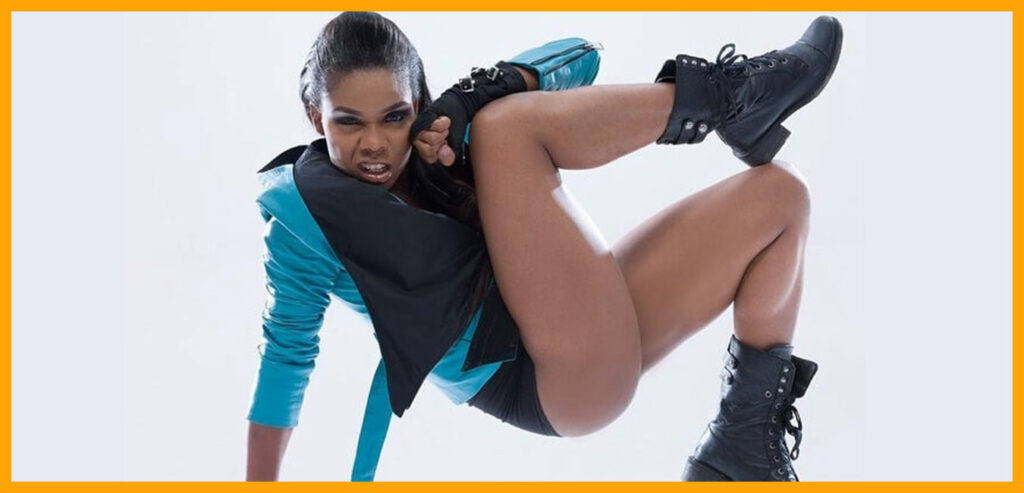 Kaffy, as she's popularly known, is a force to be reckoned with in the world of dance and entertainment. She and her team broke the record for the Longest Dance Party at the 2006 Nokia Silverbird Danceathon when she danced for 52 hours and 3 minutes non-stop. This earned her a spot on the Guinness World Records.
---
---
6. Ayodeji 'Wizkid' Balogun
From having some of the most outstanding international collaborations to winning the Grammy, Ayodeji 'Wizkid' Balogun has proudly represented Nigeria on the global music scene. His accomplishments have been so remarkable that many people aren't aware that his name is in the Guinness World Records. Drake's track 'One Dance' featuring Wizkid and Kyla earned the trio a spot on Guinness World Records as the First Track to Reach One Billion Streams on Spotify on the 16th of December 2016.
Wizkid has other Guinness World Records recognitions, including 'Most Song of the Year awards won at the All Africa Music Awards', 'Most Artist of the Year awards won at the All Africa Music Awards', and 'Most Awards won at the All Africa Music Awards'.
7. Olawumi Treasure Bayode
The Guinness World Records isn't limited to adrenaline-fuelled activities but extends to the most boring feats. And it's in one of such boring activities that Olawunmi Treasure Olabode set a record. It's safe to dub this book enthusiast 'The Nerd King' because only a true nerd would take on the unusual challenge of the Longest Marathon Reading Aloud, a record he set in 120 hours of solo reading in 2018.
Although he's no longer the reigning champion, as he's been unseated by Rysbai Isakov of Kyrgyzstan by 4 hours (124 hours), Bayode succeeded in putting Nigerian bookworms on the map.
8. Fela Kuti
Fela is a legend in the Nigerian music industry, but his fame exceeded the shores of Nigeria. His legacy as a revolutionist lives on, and so does his standing record as the Most Studio Album Recordings Released holder. Throughout his 23 years music career, Fela recorded 46 albums (between 1969 and 1992) as a solo artist.
9. Joshua Jason Usoro
The current record holder for The Longest Dance Marathon Relay is Joshua Jason Usoro and his team. On the 6th of April 2019, the Jason team, consisting of seventeen other Nigerian dancers, danced for 53 hours, 28 minutes and 47 seconds to clinch this prestigious title. That record is yet to be broken by anyone globally.
Who is the Next Nigerian Guinness World Records Holder?
10. Hilda Baci
The additional name on this list of Nigerian Creatives who are Guinness World Records Holders is Hilda Effiong Bassey, aka Hilda Baci. Hilda is an established chef, a TV presenter and producer, and a creative food content creator. She's also a foodpreneur and owns My Food by Hilda, her online food enterprise and onsite restaurant. While Hilda is yet to enter the Guinness World Records, she is set to break the current record of the World's Longest Cooking Marathon by an Individual.
In March 2023, Hilda announced her decision to embark on an ambitious project – to break the existing 87 hours, 45 minutes record held by Lara London of Rewa, India. Hilda intends to cook over 250 meals in 96 hours (4 days) from the 28th of April to the 1st of May, 2023. Hilda, known for her mastery of local and international foods, said it's taken her five years to prepare for this record-breaking project which will finally go down at Amore Garden, Lekki, Lagos.
Gbenga Ezekiel was the last Nigerian acknowledged as a global record breaker. Will Hilda Baci be the next? We are definitely rooting for her alongside her half-a-million followers.