Did you know? The world-renowned TED conference, which features biannual TED talks, originally started as a crazy idea for the 'ultimate DINNER PARTY' way back in the eighties. While TED conferences were initially dedicated to themes and topics about Technology, Education, and Design (hence the acronym 'TED'), today, TED talks cater to a much broader array of topics and disciplines, and they facilitate the spread of inspiring ideas and insights from experts and virtuoso's all across the globe.
From catering to quantum physics, religion to mathematics, sex education to politics, and every topic in-between. If it piques your curiosity, chances are excellent that TED already has a talk on it archived.
Today, we're rummaging through the vast TED archives to pick out the 7 most interesting TED talks to inspire creatives like yourself to keep those creative juices roaring like tidal waves. And so, in no particular order, here are seven (7) of our top picks to help you stay creative:
How To Build Your Creative Confidence By David Kelley
If you are human, odds are you've experienced moments in your life (even seasons) where you felt like you were not enough or that your work wasn't "good enough." Honestly, we've all been there, and you are not alone.
In his TED talk, TED speaker, teacher, and entrepreneur David Kelly share very insightful truths about overcoming mental barriers and developing creative confidence no matter how low you may be feeling now. You can check out the full talk here.
The Clues To A Great Story By Andrew Stanton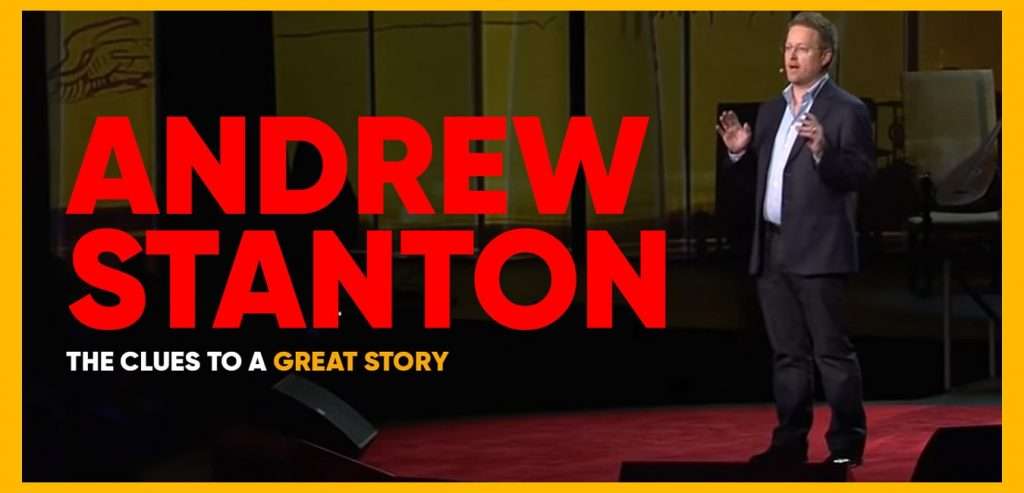 Strap in for giggles, attention-grabbing stories, and a masterful exposition on how to tell a compelling creative story through the work you currently do. Andrew Stanton, a phenomenal American filmmaker and TED speaker (over 2 Million Views), is the brains behind some of the most memorable movies you've probably watched, including 'Finding Nemo; 'John Carter,' 'The Good Dinosaur,' 'Toy Story' ( 1, 2, and 3) and 'Ratatouille' just to mention few.
How has he remained creative for over 25 years, pumping out blockbuster after blockbuster!? And what can we creatives learn from this legend about sustaining our creativity? Find out by watching his full talk here.
The Surprising Habits Of Original Thinkers By Adam Grant
Studies reported by the BBC have officially proven that procrastination actually FUELS creativity when engaged correctly– contrary to popular belief. This begs the question, HOW MUCH is procrastination too much, and how exactly can it be used to draw out untold realms of creativity from our minds?
Adam Grant, in his TED talks "The surprising habits of original thinkers," uncovers the finer details about procrastination which you definitely don't want to miss out on. He also touches on some thought-provoking habits which he has personally observed creatives exhibit. Good news? All the habits can be adopted by anyone who watches the TED talk to the end. Grab your seat at the talk here!
How To Build A Fictional World By Kate Messner
Why are movies so addictive? Why are some artworks sold for outrageous sums of money and others for pennies? Our guess is it's something to do with the stories they tell and the allure of the worlds they take us into.
As a creative, your work is your world, and when you create, you take us – your audience – on a journey into the inner workings of your unique mind. Knowing how to successfully make us like what we see inside your head is key to your success as a creative.
Kate Messner, in her TED talks, shares with us the secrets to creating captivating worlds, and you can check it out here.
A Powerful Way To Unleash Your Natural Creativity By Tim Harford
You've probably heard that multitasking is bad, bad, bad for productivity. But have you heard of 'SLOW MOTION MULTITASKING'? It's the stuff of legends, quite honestly. While certain forms of multitasking are detrimental to health (please stop texting while driving), the numbers do not lie.
Tim Harford shares how innovators like Einstein, Darwin, Twyla Tharp, and Michael Crichton found their inspiration, productivity, and creativity by cross-training their minds and using SLOW MOTION MULTITASKING. Find out more by watching the full TED talk here.
Want To Be More Creative? Go for a walk By Marily Oppezzo
Talk about spoilers; this title is about as to the point as a speech topic can get. Marily Oppezzo narrates exactly how it was discovered that walking (actually all forms of physical exercise) leads to increased brain activity. This, in turn, fosters ease of forming new neural pathways in your brain– making you smarter and more creative. Key takeaway? Move your body and move it regularly. Watch the full TED talk by Marily Oppezzo here.
The Crazy Ones By Steve Jobs
When Steve Jobs came back to Apple in 1996, the company was in a deplorable state. It took rebuilding, rebranding and the miracle called Steve Jobs for Apple to make what is now recorded as one of the greatest corporate comebacks in history. Since 1997, Apple has not looked back, and even newborn babies know what the Apple brand stands for today.
Watch the full speech by Steve Jobs that restored Apple's creativity here.
Conclusion
There are days when you won't feel 100% creative. In such situations, I strongly recommend these seven hot picks. They are guaranteed to get you geared up and your creative juices flowing.